CHEAPART 2022 Desire for Art | Events
---
Τhe auditorium and various locations within the building host a creative hub for performances, discussions, presentations and screenings by artists, curators, culture and arts professionals, writers and the public.




Wednesday and Thursday, December 14 and 15
Alexandros Atlidakis - Underathens Association — Synochi
Musician - Novis Lucet aka Nikolas Livaditis(nL), visual artists Anna Theocharaki, Maestro komikern, Eugenia Demeglio, Aggelos Papadopoulos, as well as «the contact impro lab» team come together for a single ensemble with a «wordless» coherence.
The Underathens Association celebrates four years of active presence in the Athenian art & music scene, with the performance -Synochi-. The Underathens team maintains an active identity both in the musical process as well as in the production and promotion of the contemporary art/music scene. Action - Synochi - is the quality of forming a single whole. It examines dialogue ability at regular levels of continuity and rhythm with repetition as a key element. The performance - Synochi - reflects the relationship and the ability to communicate between the arts. Coherent communication is achieved when ideas are well connected and flow smoothly into each other. We observe that social cohesion is reflected as a stable, harmonious alignment of relationships that allows the efficient flow and use of energy and communication required for optimal collective action.
A musical soundscape converses with a visual installation aiming to dress up the movement that is evoked by the above that encloses the action and aims at a unified dialogue between arts and senses.




Friday, December 16
Filippos Tsitsopoulos «Time is an onslaught», performance- duration: 30 min.




Friday, December 16, 20:00
Nikos Giavropoulos, «Six Recollections»
The artist's retrospective with 6 video works from 1999 until today, presentation and screening.
Nikos Giavropoulos, artist of the moving image, "guides" the public through his artistic journey with a retrospective presentation that focuses on those works that he considers milestones in his 23-year career. "Six Recollections" includes the screening of six videos of Giavropoulos', from his first work awarded at the 1999 Mediaterra Festival of Fournos Lab, to the most recent video created for the celebration of the Greek Revolution of 1821 and part of the permanent collection of the National Gallery. The screening is followed by a discussion.
Video works: Madonna 1999 duration: 4:50, Pieta 2003 duration: 7:10, Aphrodite 2004 duration: 20:00, Selfexile 2009 duration: 7:50, Oedipus 2015 duration: 4:50, Hymn for the Liberty 2021 duration: 3:10.




Saturday, December 17, 20:00
George-Icaros Babassakis, radio performance, duration 33 min. 33 sec.
"Philippos Tsitsopoulos prepares eggs and bacon for Kostas Tsolis, Chloe and Efrosyne paint the Alamut Fort with watercolors, William Burroughs smiles from the Warehouses in the Sky, and Icaros reads them stories of Love and Philokalia (Beauty)."
Participating: Filippos Tsitsopoulos, Chloe Akrithaki, Efrosini Mytilineou, Lena Bampasaki.
Text: Niketas Siniossoglou, Hegel, Mark Strand, Kostas Axelos & Babasakis (from work in progress "CABINET of CURIOSITIES".)




Sunday, December 18, 20:00
[Lft] Spoiler CHEAPART BOOK 1995-2022
Georg Georgakopoulos presents the CHEAPART Book to be published by IOLKOS Publications.

Sunday, December 18, 21:00
[Rt] Stratos Sterianos, Solo electric performance
Visual artist and musician Stratos Sterianos in a solo performance with original songs, based on traditional music forms mixed with elements of psychedelic rock, with a lot of improvisation.
Music/lyrics: Stratos Sterianos, Elena Hadjisavva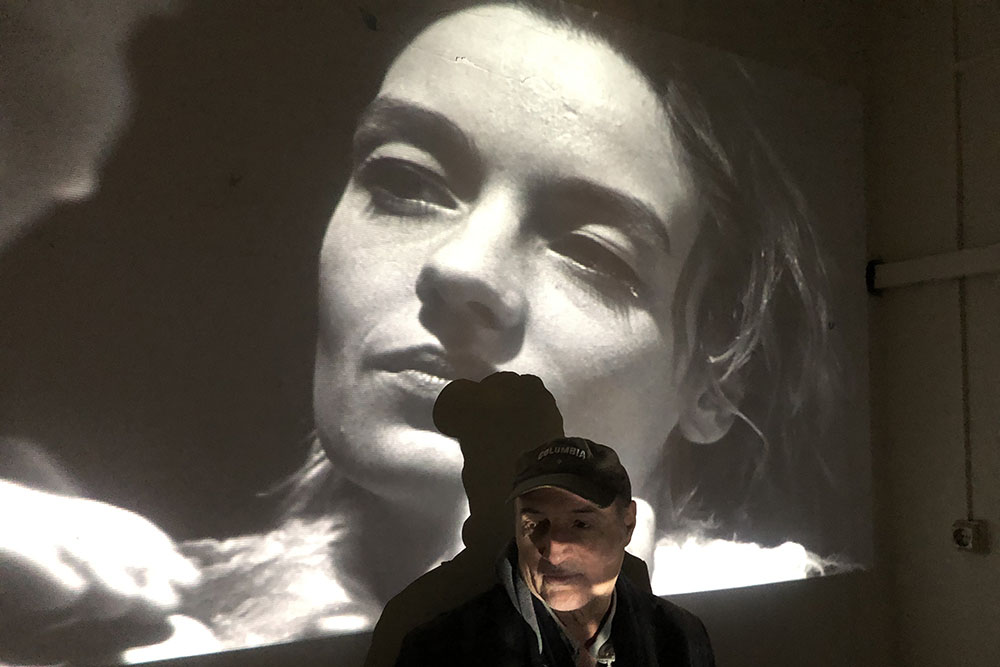 Monday, December 19, 20:00
[Lft] Lars* Kollros «Festival der Demokratie // Festival of Democracy»
Screening of Documentary, duration 78 min.
On July 7 and 8, 2017 the leaders of the EU and the 19 most developed and emerging economies of the world met in the city of Hamburg, Germany. The Senator of the Interior of Hamburg, Andy Grote announced the meeting as a "Festival of Democracy". Over 30.000 police officers where in the city to protect it. Up to 100.000 people came to Hamburg to protest against it.
Lars* Kollros and Alexandra Zaitseva accompanied the week of protests with their cameras.
Director: Lars* Kollros (web: www.misconception.de, insta: lars_von_rilrec)
Artistic Consulting: Sascha Alexandra Zaitseva (web: www.2517.at, insta: alexandrazaitseva2517)
More info: www.festival-der-demokratie.de

Wednesday, December 21, 18:00 – 21:00
[Rt] Dimitris Athanitis «No Sympathy For The Devil»
Screening (Best performance, Thessaloniki International Festival: Lena Kitsopoulou).
Direction, Senario, Production: Dimitris Athanitis
"No Sympathy For The Devil" is considered a classic in the Greek filmography. Filmed in black and white, it is a modern adaptation of the myth of Orpheus and Eurydice, set in a dystopian Athens. An extreme love story in the dark heart of the city.




Wednesday, December 21, 17:00 – 22:00
Stratos Sterianos, Thekla Gaiti, «Those who search for the sea»
An improvisational duet, a performance without a beginning, middle or end. He – is a sound and landscape voyager. She - is an urban swimmer searching for the sea in his things...or elsewhere.
---
CHEAPART 2022 | Desire for Art participates in Gallery Walk / Athens Culture Net of the City of Athens and the Hellenic Art Galleries Association PSAT.

CHEAPART 2022 | Desire for Art
Curated, coordinated by: CHEAPART
Georg Georgakopoulos, Fotini Kapiris
Artist's coordinator: Anna Androulaki

www.cheapart.gr
ZOIA.com

2 Rethymnou & Vasileos Irakleiou str., Athens 106 82
Opening: Sunday, December 11, 2022, 14:00 – 22:00
Duration: December 11 – 23, 2022, 14:00 – 21:00 daily and weekends